Wanderers stars shining bright
Posted by Keith MacMillan on 13 October 2017
Wanderers Ladies stars Charlotte Watson and Emily Dark were smiling broadly following Selection to GB Development and Scotland Ladies Senior Squads respectively.
Six Scottish players have been selected for the GB women's Elite Development Programme (GB EDP) squad.
Millie Brown, Sarah Jamieson, Charlotte Watson and Katie Robertson, who all featured regularly in the Hero Hockey World League Semi-Final and EuroHockey Championships over the summer, have been selected. Laura Swanson and Lorna Cruickshank are also on the programme – both are also set to win their first Scotland cap in the upcoming series against Ireland.
The GB EDP has been launched as part of a strategic objective during the Tokyo 2020 cycle with the aim of developing medal winning Olympians of the future, with the selected athletes having shown their potential to achieve that during a comprehensive selection process.
While the GB EDP is not age categorised, it has been designed for players aged between 19-23. A total of 36 players have been selected for the women's GB EDP and there is a strong Scottish representation.
The Scotland women's hockey squad has been announced for the upcoming test series against Ireland in Belfast and Banbridge, and includes five fresh faces in line to win their first cap.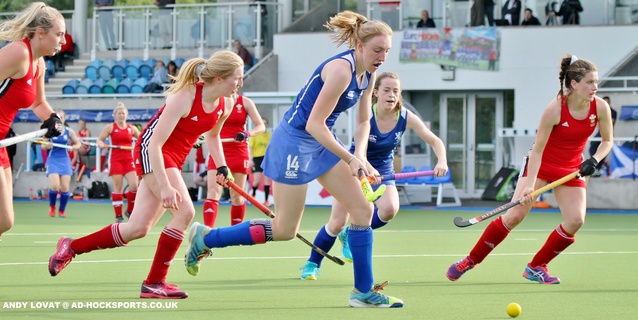 Scotland women's Head Coach Gordon Shepherd said, "I have decided to use these games to give players who were not selected this summer for the World League Semi Final and European Championships an opportunity to stake a claim for a place in the squad that will be selected for warm weather training in January. The January camp will be the selection phase for the Gold Coast Commonwealth Games.
"A number of players were unavailable for selection and this has meant we were able to select some new players to have a look at.
"There are five new caps and I am looking forward to seeing them in this environment. One of these players is Emily Dark who will be the youngest player that I have given a cap to. She is an exciting prospect and has progressed massively this year."
Scotland women's squad
Lucy Camlin – (Watsonians)
Danie McMurray – (Western Wildcats)
Kareena Cuthbert (C) – (Western Wildcats)
Becky Ward (C) – (Western Wildcats)
Emily Newlands – (Watsonians)
Karin Belch – (Grove Menzieshill)
Bex Condie – (University of Birmingham)
Laura Swanson – (Edinburgh University)
Katie Robertson – (Grove Menzieshill)
Kate Holmes – (Clifton Robinsons HC)
Emily Dark – (Dundee Wanderers)
Fiona Bruce – (Wimbledon)
Rachael Mack – (Leicester)
Lucy Lanigan – (Clydesdale Western)
Sarah Jamieson – (Grove Menzieshill)
Charlotte Watson – (Dundee Wanderers)
Millie Brown – (Clydesdale Western)
Fiona Burnet – (Clydesdale Western)
Lorna Cruickshank – (Durham University)